20p Roulette
Dove Casino - UK PayPal Casino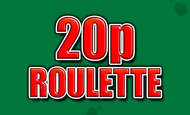 Register Here - View Promotions - PayPal Slots UK

20p Roulette

PayPal Casino
20p Roulette is a virtual European Roulette simulator from Inspired Gaming. It has an assumed RTP rate of 97.3%. The PayPal Casino that offers you hundreds of leading PayPal slots like Lara Croft: Temples and Tombs, Fluffy Favourites, Shaman's Dream, and Chilli Heat. If ever there was a time to say 'what you see is what you get' in relation to any of the games we offer inside our PayPal Slots casino, it would be now. The name '20p Roulette' tells you almost everything you need to know about this offering from Inspired Gaming. Those of you who are looking for a simple, easy-to-follow roulette game can rest assured that you've found one here.
Inspired Gaming hasn't made the mistake of going over-the-top with their presentation in the process of putting 20p Roulette together. The graphics, while a perfectly good representation of your average roulette table, are basic. There are almost no sound effects at all. The wheel spins, you place your bets, and you either win or lose. Even a complete newcomer should know what to do and how to do it from the moment the game loads.
One thing that might make 20p Roulette more enticing than other roulette simulators you might have played at other PayPal casinos is that it offers the European version of the game, not the American version. That's better for players. There is only one 'zero' slot on a European roulette wheel. On an American wheel, there are two. That makes it marginally more likely that your chosen number will win on a European wheel than an American one. It's not a huge advantage, but some advantage is better than none at all!
20p Roulette

Features
There's nothing to report here. This is an authentic European roulette simulator. Roulette wheels don't have bonus features, and neither does this game! We've stacked the Dove Casino roster high with PayPal slots and casino offerings to suit every taste and every mood. If you'd rather play something feature-heavy, go back to our index and seek out something more to your liking. If you want to play roulette, stick around and give 20p Roulette a try!
About the Developer of

20p Roulette

– Inspired Gaming
The first thing you generally notice about Inspired Gaming is that their creations always look great. When they're making PayPal slots, they usually work in HD, and sometimes even work in 3D. Fifteen years ago, Inspired Gaming was just a small London-based company with ten employees. Everything changed for them when they acquired the Virtual Sports platform in 2006 and put their own spin on it, resulting in what's believed to be the most popular Virtual Sports platform in the world today. By 2016 the company had become so large and successful that Hydra identified them as an ideal purchase, and went ahead with a takeover. They're now a Hydra property, but they continue to release new creations under the 'Inspired' label.
Placing a Stake with Dove Casino
20p Roulette is not an example of them at their best in that respect, but it's serviceable enough. Centurion, which is in our PayPal slots library, would give you a better idea of their usual standard. We'd love you to play 20p Roulette with us at Dove Casino; the PayPal Casino that offers you hundreds of leading PayPal slots like Lara Croft: Temples and Tombs, Fluffy Favourites, Shaman's Dream, and Chilli Heat.