Beat Bots
Dove Casino - UK PayPal Casino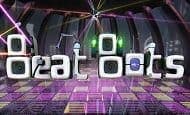 Register Here - Fishing Frenzy - PayPal Slots UK

Beat Bots PayPal Slots
Beat Bots is a 5 reels, 40 paylines UK PayPal casino game by Genii. Beat Bots has Wild, Scatter symbols, Free spins and Multiplier features, and RTP of 96%. Play Beat Bots here with us at DoveCasino.com and also gain access to the whole library of slots inside our PayPal Slots, which includes Lara Croft: Temples and Tombs, Beat Bots, Shaman's Dream, and Chilli Heat.
If you like futuristic slots, you're in for a real treat when you play Beat Bots, which is available here at Dove Casino through the provider Genii. Even Microgaming's Fortunium pales in comparison to Beat Bots when it comes to giving us a vivid depiction of the future. This is a slot set in a world where robots have taken over. That isn't necessarily a cause for concern though - they're showing no signs of going rogue like the Terminator. In fact, all they seem to want to do is perform basic chores, and give us a chance to win money from them!
The backdrop to Beat Bots is incredibly detailed. Skyscrapers dominate the horizon, with flying cars parked on every rooftop (when they're not traveling through the air). It's such a busy background that you might make the mistake of thinking that this slot is a lot more complicated than it really is. If super-complex slots put you off the idea of playing, you can relax - once you get past the almost-overwhelming graphics, this is actually quite a gentle slot that's easy to understand, and easy to play. Getting over it might take a little while though - if the visuals weren't enough, there's also the soundtrack to contend with. Kraftwerk would be proud of some of the music, which wouldn't sound out of place in a European techno nightclub.
Beat Bots Symbols
There are actually only eight base game symbols to play with in Beat Bots, and four are them are symbols you'll be very familiar with if you're a regular slots player. As is the case with so many traditional slots here at Dove Casino, we're talking about J, Q, K, and A. They're the low-value symbols, although they've been given a graphical tweak to make them look like they're part of a traffic light system for the flying cars. The next four symbols up are all robots. In order, there's a builder robot, a post-delivery robot, a bored-looking computer-programmer robot wearing glasses, and a police robot.
The Beat Bots logo puts in an appearance as the wild symbol and will double the value of any winning line it becomes involved with. It can replace all other symbols within the base game, with the exception of the scatter. That's represented by a DJ robot - so now we know who to blame or praise for the exceptional soundtrack! Genii could have chosen to overload Beat Bots with multiple futuristic bonus features, but they haven't. Really, the scenery is just there to look at. The content of the slot is no different from a number of the traditional 'fruits and gems' slots we have at DoveCasino.com. You should probably think of Beat Bots as a slot that looks and sounds modern but plays like one of the classics. It's a fusion slot!
Free Spins Bonus Feature
The only bonus feature to play for is Free Spins, which can be triggered from within the base game by landing multiples of the DJ robot scatter symbol. Just three of the robots will get you eight free spins. That goes up to twelve spins for four, and sixteen for all five at once.
You cannot trigger the free spins feature again when it's up and running, and there's no multiplier applied to anything you win while your spins are free. That might make it sound vanilla, but there is one extra perk. A second DJ robot (looking very similar to the first) is added to the reels and acts as a second wild. Like the original wild, it doubles the value of any winning combination it becomes part of. The wilds can't substitute for each other, but they will replace anything else.
That's all there is to Beat Bots - it's an easy, fun slot with a great soundtrack, and the robots make it kind-of cute, too. It's not extravagant or complicated, but not every slot has to be. We've got slots to suit every type of player at Dove Casino, and this is one for those who like a familiar feel presented in a new way.
About the Developer of Beat Bots – Genii Gaming
The first thing people tend to want to know about Genii is how to pronounce their name. The official answer - which comes from the company's own website - is 'jee-nee-aye,' so now you have no excuse for getting it wrong if it ever comes up in conversation. Genii have a particularly smart business method. They've deliberately based their offices between the UK (their home), Malta, and Vietnam.
That means regardless of what time of day it might be, there will always be a Genii office open somewhere in the world. Because of that, they can provide customer support every hour of every day. Other slots developers may sleep occasionally, but Genii never do. Although Genii are capable of making great slots - with Siren's Serenade being a great example- they also make other types of casino games, too. The European Roulette game we offer at our PayPal casino is also a Genii product.
Placing a Stake with Dove Casino
If you're thinking of playing Beat Bots with us at DoveCasino.com, the process couldn't be any easier. We're a UK PayPal Casino. You can sign up with us with PayPal, and you can make deposits to us with PayPal. The average registration process using this method takes less than thirty seconds, so you could be playing this slot (or one of the hundreds more we offer to you) in less than the time it would take you to make a cup of tea!
Being a PayPal casino means that we can take advantage of all the safety and security that PayPal provides, and therefore provide better protection to you and your money. It's all part of our commitment to making Dove Casino a place you can simply come and play slots without worrying about where and how your money is being handled.