Count Duckula JPK
Dove Casino - UK PayPal Casino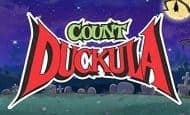 Register Here - Fishing Frenzy - PayPal Slots UK

Count Duckula Jackpot King PayPal Slots
Count Duckula is a 5 reels, 20 paylines UK PayPal casino game by Blueprint Gaming. Count Duckula has Wild, Bonus symbols, Free Spins, Reel Modifier, Prize Pick, Progressive Jackpot, and Bonus Game features, and an RTP of 93.35%. Count Duckula is available right here to players as part of the DoveCasino.com PayPal Slots collection, along with many other brilliant slots like Lara Croft: Temples and Tombs, Count Duckula Jackpot King, Shaman's Dream, and Chilli Heat.
Count Duckula started off as a 'villain of the week' on the 1980s cartoon show 'Danger Mouse,' and then developed a life of his own, with a cartoon show starring him and his strange family. It's years since he's been on television, but he's still fondly remembered by those who grew up watching him. Anyone who remembers watching the show as a child will now be old enough to play slots, and so it's no surprise that Blueprint has come up with an official Count Duckula slots game. We're thrilled to offer it to Dove Casino players!
If you've played any of the (many) Blueprint slots at our PayPal casino, you'll know that they're among the very best when it comes to graphics. They've done the creators of Count Duckula proud here; the visuals look good enough to have come straight from the cartoon, and they feel authentic. We've got a good view of a gloomy graveyard through the transparent reels, and the Castle of Duckula is clearly visible on the horizon. Most of the view, though, is taken up by the 5x3 reel and row set with its stony frame.
20 paylines and an RTP of 93.35% is low for Blueprint, but that's because everything changes - both in terms of jackpot size and paylines - when you get to the bonus features. We'll come to them in due time, but first, we'll set the scene for what you should be looking for on the reels. J to A are the low values, and the remainder of the (more valuable) symbols come straight from Duckula lore. There's a clock, the Family Duckula coat of arms, a gothic organ, Duckula's castle, and the logo from the cartoon.
Count Duckula Jackpot King Symbols
A stake through the heart is fatal to a vampire-like Duckula, but not to you in this slot - you'll actually welcome seeing it because it's the wild symbol. It will stand in for anything apart from the bonus symbol, which is a portrait of Duckula in a golden frame. Introducing the bonus symbol is a good point to move on to the bonus features - and so we shall! Make yourself comfortable. There are a lot of these, and breaking them down might take a while!
Random Bonus Feature
Some of the bonuses Count Duckula has to offer trigger at random, and can occur during or after any spin in the base game. They are:
Duckula's Winged Spin:- Vampire bats fly onto the reels and transform anything they touch into a jackpot symbol (see below for more information on the progressive jackpot).
Duckula Wilds:- Additional wild symbols are added to the reels for your next spin.
Nanny Colossal Wilds: One gigantic 3x3 symbol will be helpfully placed onto the reels for your next spin by Nanny.
Igor Mystery Position: Igor pours a potion onto the reels, which magically creates a set of matching symbols.
The other bonuses, which are triggered by events in the base game, fall under the Wall of Fame category. Three Duckula portrait symbols on the same spin will trigger one of the following bonus games at random.
Duckula Big Money Bonus: Count Duckula is pinned to a wheel of fortune, which you can spin repeatedly to win cash. Your cash adds up every time you land on a new segment, but if you hit the same one twice, the round ends.
Ancestor Bonus: This is a prize-pick round. Make selections from the picture frames to find out what's behind them. Finding Dr. Von Goosewing ends the round, but find three portraits of Duckula to increase the size of the multipliers on offer.
Tombstone Bonus: Another prize-pick. There's money hiding behind the gravestones, but choose carefully; Von Goosewing is hiding behind one of them, and he'll end the round here, too.
Von Goosewing Free Spins: Ten free spins, during which every wild symbol sticks in place until the end of the round.
Wild Heart Free Spins: Ten free spins on a new, larger set of 4x5 reels that offer 40 paylines instead of 20. Any wilds you collect during these spins are stored and added back onto the reels for an eleventh and final spin once you're done.
Progressive Jackpot. Bonus Feature
As if all of the above wasn't enough to get to grips with, there's also a Progressive Jackpot. We have lots of slots featuring progressive jackpots within our PayPal casino - hit the dedicated tab above if you're interested. The Blueprint Gaming version involves 'Jackpot King' symbols appearing on your reels at random. In the event that you're blessed with five at once, Count Duckula pauses, and you're whisked away to a new 'Jackpot King' reel set. Spin and land fifteen crowns on that new reel set to progress forward, and your final prize is a single spin on the singular 'Wheel King' reel. Whatever prize that stops upon is yours - which might be £50,000 or more!
About the Developer of Count Duckula Jackpot King – Blueprint Gaming
We strongly suspect that someone important at Blueprint Gaming is a big fan of 1980s television and movies - why else would the company have made slots based on Count Duckula, The Goonies, Inspector Gadget, and so many more entertainment properties from the era? They've done an incredible job with all of them, but then again, Blueprint does an incredible job with pretty much everything they touch.
Blueprint's slots stand out from the majority of the crowd at DoveCasino.com because of two factors. Firstly, the graphics are next-level. You'll never see a Blueprint slot that looks dated or ragged around the edges. Secondly, they cram more bonus features into one slot than the majority of slot providers would put into five. That isn't to everybody's taste, but players who love feature-heavy slots are drawn to Blueprint in big numbers.
The recent trend for Megaways slots - of which our PayPal casino has a vast collection - might have been started by Big Time Gaming when they invented the system, but it's Blueprint who have really run with the ball. From Return of Kong Megaways to Primal Megaways, with many stops between, they've found a way to blend their graphical abilities with Big Time's revolutionary system. The bad news for all the other companies out there is that now they've achieved that, there may be no stopping them.
Placing a Stake with Dove Casino
You can register to play slots at DoveCasino.com right now, and you can use your PayPal account to do it! As a UK PayPal casino, we can usually get your account up and running in thirty seconds or less, and all we need from you are a few clicks of the mouse! After that, you're free to use your PayPal account to make deposits. It's fast, and it's easy.
As well as being convenient, being a PayPal casino means we're able to ensure your money is handled using all of the security and safety that PayPal is so well known for. Your money is in safe hands when you're playing with us - so relax and focus on playing your favorite slots!