Goldstruck
Dove Casino - UK PayPal Casino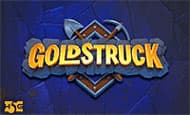 Register Here - Fishing Frenzy - PayPal Slots UK

Goldstruck PayPal Slots
 Goldstruck is a mining themed UK online slot developed by High 5 Games, featuring a vibrant display of 5 reels and 5 vertical rows. Goldstruck offers a high variance online slot with a particularly strong Return to Player Rate of 96.50%, boasting a huge payline pattern of 50 ways to win available. Goldstruck comes complete with a Wild Train Bonus Game and a Free Spins Bonus Round as the special features of this online slot. This exciting game can be played here at Dove Casino Slots, with over 700 other online slots UK to play via PayPal Slots App! 
 Goldstruck is a fairly new release by High 5 Games, which features a fun mining theme complete with character symbols and special bonus games which make this UK online slot entirely unique! The best news to hear about Goldstruck is that this online slot is a high variance game, meaning players are more likely to win at this exciting online slot. This online slot has a RTP rate of 96.5% which is exceptionally high and far above the standard rate for online slots at this online casino, giving this game a huge advantage above the rest of the games.
Goldstruck features a nicely designed and very unique format of 5 reels and 5 rows, which is very aesthetically pleasing due to the symmetry of the design, but also offers plenty of symbols and paylines to work with to make this game easier to play. Goldstruck is a slightly more complex design which may take some players by surprise, but if you are looking for something different in terms of design then you will love Goldstruck! Goldstruck boasts a whopping payline pattern of 50 ways to win, covering plenty of directions and reel areas to help players out in landing a winning combination of symbols in this game.
Overall, this game offers some great payouts which are one of the key selling points of this online slot. The jackpot prize of Goldstruck is a strong 1,000x your stake which is won through the highest value symbol of the slot, which is a fairly strong win to gain from a main reel. As well as this, Goldstruck offers lower value payouts of 2, 10 and 50 times your stake which can develop payouts depending on your original bet. 
Goldstruck Symbols
All payouts are formed independently by taking your original stake and multiplying it by the payout given, which can create some fairly strong wins for the higher betters at this online casino. Goldstruck welcomes a wide range of stakes beginning at a required minimum of £0.50 and a maximum of £150 - this gives this online slot an advantage of allowing players to bet higher bets to bring in higher payouts. Goldstruck does have a slightly higher minimum bet than other online slots, although this is worth it when you consider the payouts and bonus rewards on offer in this game.
Jackpot Win Bonus Feature
Goldstruck can generate a highest maximum win of £150,000 which requires the maximum stake and the jackpot win, offering a great incentive to work with at this online casino. This online slot also includes special features such as an exciting bonus game called the Wild Train, accessible through the bonus symbols of this online slot tk reward players with locked wild symbols and a Respin of the reel which can encourage a payline of the highest value payout of the game, making the jackpot prize more likely to win! Goldstruck also uses a free spins bonus round, which also helps players in making a win by making their stake longer, which gives them a second chance at winning at this PayPal Casino.
Wild Train Bonus Feature
 Goldstruck has an exceptional jackpot prize which can reach payouts up to £150,000 which is particularly strong for a high variance game. Goldstruck makes use of a unique bonus game called the Wild Train, designed especially for this online slot - this game will randomly add locked miner character symbols to your reel, which are the highest value symbols of the online slot, before giving you respins of the reel in the hope of triggering a payout. This game also offers the joy of a free spins bonus round, which is accessed through the bonus scatter symbols and gives a number of free spins for players to try their second chance at the huge jackpot payout of up to 1,000 times their stake! The bonus features are fairly unique and original, but still offer the much loved casino bonuses such as free spins, wild wins and respins. Goldstruck will certainly appeal to players who look for online slots with additional bonus games in them, to offer more than just your basic reel. 
About the Developer of Goldstruck – High 5 Games
 Goldstruck is developed by High 5 Games, featuring one of their most unique designs and exclusive bonus features. High 5 Games make no compromises when it comes to UK online slot development, delivery a high standard on the visuals and concept of all of their creations. If you enjoyed this game for all it offers in appearance, bonuses and payouts, then be sure to try out more of High 5 Games' online slots such as Way Out Wilds, another strong online slot which focuses on special wild modifiers and bonuses, also available at DoveCasino.com.
Placing a Stake with Dove Casino
Goldstruck is based on a fun theme of mining, complete with shining gemstones and a thematic bonus round to explore. Goldstruck is also complete with unique mining characters in cartoon form, which are also the high value wild symbols of the game to add something different to this UK online slot. Goldstruck is slightly more complex than you are used to, with a 5x5 equal grid reel which is easy on the eye but slightly more complicated than your usual online slot. This fun game can be accessed on most devices with compatibility with mobiles and desktop devices too via PayPal Casino App at DoveCasino.com.