Mighty Tusk JPK
Dove Casino - UK PayPal Casino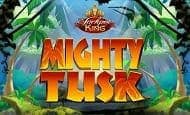 Register Here - Fishing Frenzy - PayPal Slots UK

Mighty Tusk Jackpot King PayPal Slots
Mighty Tusk is a 5 reels, 20 paylines UK PayPal casino game by Blueprint Gaming. Mighty Tusk has Wild, Scatter symbols, Bonus symbols, Free Spins, Reel Modifier, and Progressive Jackpot features and an RTP of 93.05%. You're welcome to play Mighty Tusk at DoveCasino.com, where it's part of a PayPal Slots library that contains over 600 great slots like Lara Croft: Temples and Tombs, Mighty Tusk Jackpot King, Shaman's Dream, and Chilli Heat.
What do you get if you take Blueprint Gaming's cutting edge graphic design skills and combine them with an animals-and-nature theme, and then tie them to a great progressive jackpot? The answer is Mighty Tusk, which is so good looking that it could easily have been drawn by someone working for Disney Pixar. We have dozens of animal-themed slots at Dove Casino, but we'd hesitate to say any of them look as good as this. From the perfectly-realized cartoon jungle behind the reels to the barrage of animal noises and primal jungle beats, Mighty Tusk gives you the feeling of being out in the wild.
Mighty Tusk Jackpot King Symbols
Playing slots isn't just about how they look, of course, it's also about how they play! The base game in Mighty Tusk isn't anything to write home about, but it's solid enough to support the incredible bonus features which sit on top of it. We're dealing with a standard 5x3 reel-and-row set, upon which the low-value symbols are represented by the familiar playing card symbols 10 up to A. Everything above them is represented by a cute animal. There's a monkey, a snake, a panther, a bear, and a tiger. We've seen Blueprint deal with fierce creatures before in Primal Megaways, but here they've made everything look positively cuddly.
The wild symbol in Mighty Tusk is, somewhat weirdly, an elephant trying to hide behind a tree stump (without success). It can substitute for anything apart from the scatter, which is a golden bear marked 'bonus.' The fact it has 'bonus' written on it is a dead giveaway that there are bonus features to play for in this slot, and so let's talk about them! If Blueprint ever released a slot that didn't come with great bonus features, we'd worry that something terrible might have happened to them. DoveCasino.com has a lot of bonus-heavy slots, and Blueprint are responsible for more than their fair share.
Free Spins Bonus Feature
On the face of it, the fact that the only bonus that can be triggered from within the base game is a Free Spins feature seems to make a lie out of what we just told you, but only because we haven't given you the full picture yet! If you'll excuse the pun, things are about to get really wild.
The more scatter symbols you trigger the free spins feature with, the more you'll get out of your free spins. Just three is enough to get you started, and you'll get fifteen free spins for them. Four scatter/bonus symbols are good for twenty free spins, but if you strike lucky and all five turn up at once, you get a big jump up to fifty free spins, and you can start rubbing your hands together and counting your winnings.
The free spins take place on a new screen. There, you'll find four sets of reels waiting for you, but only the bottom left set is active to begin with. During your free spins, a new symbol is added to those reels - a golden nut. Like a squirrel, you now want to collect those nuts! Each one that lands is added to a panel beneath the reels. The more nuts you collect, the better your free spins become.
Collect twelve nuts to unlock the second set of reels. At the same time, every wild symbol that lands from now on will expand to fill its whole reel. Make it to eighteen nuts, and you'll activate the third set of reels, and now the 10, J, and Q symbols are stripped away from the reels. A big collection of 24 nuts will unlock the final reel, and additionally take away the K and the A, leaving you only with high-value symbols. You're probably wondering how you're supposed to make it that far if you only have fifteen free spins, and here's your answer. Every time you unlock a new set of reels, you get a further five free spins. It's still difficult to get all four activated, but it isn't impossible.
Progressive Jackpot Bonus Feature
There's more going on than just the incredible free spins offer, too. There's a Progressive Jackpot to chase after (by the way, if that's your thing, check out the whole range of jackpot slots at our PayPal casino by clicking the tab above). Every now and then, a 'Jackpot King' symbol might turn up on your reels. It does nothing in the base game, but if five land at once, your Mighty Tusk session will be paused, and you'll go to a new reel set. There, you'll have a few free spins to land fifteen special crown symbols. Once you've jumped that hurdle, the 'Wheel King' reel is yours to spin once, and once only. Whatever you win from it will be a huge prize, and it could even be the full value of the progressive jackpot. It's not uncommon for that to be more than £50,000!
About the Developer of Mighty Tusk Jackpot King – Blueprint Gaming
We've talked a lot about Blueprint Gaming's love of including bonus features in their slots, but we think they'd be happy for us to do so. It's one of their calling cards, along with having stunning graphics. You can tell that every Blueprint Gaming slots game is a labor of love, and we're glad that we're able to offer so many of them at Dove Casino.
Blueprint, which has UK offices close to Nottingham, has been trusted by multiple different entities to create officially-licensed products. From The Goonies to Count Duckula, they've proven time and again that they're the provider the TV and movie companies trust the most, and they always produce quality when they're working with a theme.
In more recent years, we've seen Blueprint making extensive use of the Megaways system that was originally devised by Big Time Gaming. By combining the complex and rewarding system with their visual flair and bonus features, they've made some fantastic slots. Try Return of Kong Megaways if you'd like to see what we're talking about!
Placing a Stake with Dove Casino
We value our customers at DoveCasino.com, and so your confidence and security are important to us. That's why we've chosen to work with PayPal and become a UK PayPal casino. Our systems work with PayPal's to enable you to register a Dove Casino account using your PayPal account, and then use that same PayPal account to swiftly and securely make deposits with us. Being a PayPal casino makes us efficient, safe, and easy to deal with. We hope you find it a convenience, and we look forward to welcoming you as a player.