Return of Kong Megaways
Dove Casino - UK PayPal Casino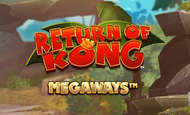 Register Here - Fishing Frenzy - PayPal Slots UK

Return of Kong Megaways PayPal Slots
Return of Kong Megaways is a 6 reels, 117,649 paylines UK PayPal Slots game by Blueprint Gaming. Return of Kong Megaways has Wild, Scatter symbols, Megaways, Free Spins, Mystery Symbols, and Collapsing Wins features, and an RTP of 96.03%. Play Return of Kong Megaways with DoveCasino.com today, and also enjoy our PayPal casino library of over 600 great slots like Lara Croft: Temples and Tombs, Return of Kong Megaways, Shaman's Dream, and Chilli Heat.
When a TV series is popular with an audience, the network it was broadcast on will usually order a second season. When a movie is a smash hit, the smart money says that there will be a sequel. Slots are no different. Blueprint Gaming was delighted with the popularity of their previous slot King Kong Cash (which we also offer at Dove Casino), and so they're back with an ape-themed sequel that seems certain to please anybody who enjoyed the first slot - and may just attract a whole new audience at the same time.
King Kong is a character that's appeared in countless movies and television shows and inspired a lot of characters in other mediums. One entertainment property that was definitely inspired by King Kong was the classic Nintendo video game Donkey Kong. If Blueprint put their hands up and spoke honestly, we think they'd admit that they owe more than a little of the look and design of Return of Kong Megaways to Donkey Kong, and that isn't a bad thing. The influence was also very obvious in King Kong Cash. What sets the two slots apart? That's a very simple question to answer. Kong may have returned, but he hasn't come alone. This time, he's brought the Megaways system along with him.
Megaways, which is a Big Time Gaming property licensed to Blueprint, takes everything you thought you knew about how a slots game is built and changes it on a fundamental level. Return of Kong Megaways has six reels, a maximum of seven rows on each reel, and yet another mini-row on top of that. On any given spin, you could have two symbols on one reel and seven on the one next to it. It's a variable and volatile scenario, with a massive 117,649 paylines potentially open to you. The layout dominates the screen, but there's still enough space to give you a jungle background. You'll find Kong himself up in the top right-hand corner, wearing a crown and medallion and grinning at you.
With so much going on every time the reels spin, Blueprint has made the wise decision to keep things as simple as they can with the symbols on the reels. A full range of royals running from 9 up to A account for the low values, and the higher-value character symbols are represented by Kong and all his animal friends. In order, they go parrot, tiger, rhino, and Kong at the top of the pile. He's the King: where else would he be? There are other symbols to be found in Return of Kong Megaways, but they don't occur naturally in the base game - they can only ever fall onto the reels from the four-symbol mini-row above them. Let's discuss the bonus features and explain how that works.
Return of Kong Megaways Symbols
Collapsing Wins Bonus Feature
The most important bonus feature in this slot is in play all the time, and that's Collapsing Wins. It'll be a familiar one if you've played other Megaways slots elsewhere in our PayPal casino. Whenever you make a winning line, the line disappears once your win has been paid. The symbols vanish, and new symbols fall down from the mini-row above the reels to replace them. They may in turn create new wins, and so the process carries on until no new wins are made.
Free Spins Bonus Feature
One of the symbols that may fall out during this process is the slot's wild, which can replace any of the base game symbols and therefore increase your likelihood of a win. As well as the wild symbol, you might also notice golden letters falling out from that extra row. The letters are K, O, N, and G. If all four letters land during the same Collapsing Wins sequence, you'll trigger a Free Spins round, and that's when playing the slot can become really rewarding.
You start with twelve free spins, although if any further letters appear while they're happening, you get an additional five. Every time you make a winning line, regardless of the value of that line, the multiplier applied against your next win increases by one. You'll also start to see golden monkey symbols falling onto the reels from above while you're playing through your free spins: once you've collected five of them, you'll get an extra two spins, plus some more paylines opened up. Basically, the more you win, the more your chances of winning increase.
If you're bored of waiting to trigger the free spins feature through standard gameplay, you can do it buy buying straight into it with the button on the right of the reels. The price is high, though - it will cost you one hundred times the value of your stake. There's no guarantee that your winnings will top that amount!
Mystery Kong Bonus Bonus Feature
Even Kong himself wants you to win this slot. Every now and then, and totally at random, he'll throw a barrel at the reels. The barrel will crack open and deposit a collection of mystery symbols onto your reels for the next spin. When the spin stops, the mystery symbols will reveal themselves to be a matching symbol, and hopefully bring you a nice win. This is known as the Mystery Kong Bonus.
About the Developer of Return of Kong Megaways – Blueprint Gaming
Newark-Based Blueprint Gaming excel at making great-looking slots. Some of the best-looking slots in the DoveCasino.com library are Blueprint products, and we're always excited when they have something new for us to bring to you. Both Return of Kong Megaways and King Kong Cash are great slots, but they're just the tip of the iceberg when it comes to what Blueprint have in their locker.
As licensed-product specialists, Blueprint has been entrusted to make the official slots of a series of entertainment properties. You'll find the official slots of Naked Gun, Ted, The Goonies, and Count Duckula at Dove Casino, and Blueprint was the provider behind all of them. They've found a way to combine stunning graphics with clever bonus features, and we've rarely been disappointed when playing one of their slots.
Although Blueprint didn't invent the Megaways system (that was Big Time Gaming), they've proven to be experts at using it to their advantage. Many of Blueprint's slots of the past have been given a fresh coat of paint using Megaways, and Return of Kong Megaways might be the best example of that. They're one of the brightest slot developers in Britain, and we're pleased to be able to bring their creations to you.
Placing a Stake with Dove Casino
Security and trust are both big issues when you're choosing who to play slots with. DoveCasino.com is a UK PayPal casino. That means all of the security and protection features that PayPal is known for are available to you when you interact with us. Because we're a PayPal casino, you can use your PayPal account to register with us in less than one minute, but do so completely safely. Because we're a PayPal casino, we can accept deposits into your account through PayPal. Dove Casino is a place where you can enjoy the latest and greatest slots, and do so with peace of mind when it comes to payments and transactions.